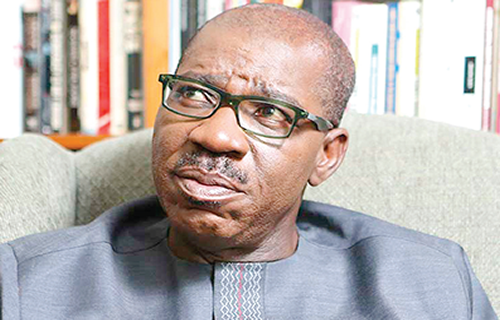 By Ikhili Monday Ebalu, Benin city
The Edo State House of Assembly on Thursday passed the state's 2018 budget proposal of N150.09 billion.
National Trail reports that Governor Godwin Obaseki of Edo had on November 29, 2017, presented a budget proposal of N146.6 billion to the house for consideration and passage.
The budget, as presented by the governor, consists of N66.7 billion as recurrent expenditure, while capital expenditure stood at N79.8 billion.
The Assembly increased the appropriation bill with about N3.433billion.
Considering the bill clause by clause, the Chairman, house committee on Appropriation and Project Monitoring, Damian Lawani (APC, Etsako Central), said the budget christened budget of growth was designed to execute projects in the state.
During the consideration of the bill, N82.53 billion was allocated for capital expenditures, while N67.55 billion was allocated for re-current expenditures.
The breakdown of the proposal showed that N17.14 billion, N6.72 billion, N3.33 billion and N49.41billion were allocated for the recurrent expenditures of the administrative, economic, law and justice and social sectors, respectively.
Also, N7.7 billion, N51.6 billion, N888 million and N22.3 billion were allocated for the capital expenditures for the administrative, economic, law and justice and social sectors, respectively.
The House after the consideration of the bill with amendments passed the bill.
The clerk of the House, Mr.James Omoatama however gave the bill its third reading.
The Speaker, Kabiru Adjoto directed that the clean copies of the bill be sent to the governor for his assent.