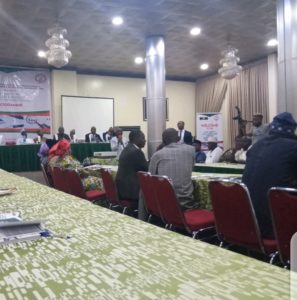 By Ere-ebi Imisi
The Executive Chairman Federal Inland Revenue Services, FIRS, Dr Babatunde Fowler has noted that payment of Tax by citizens remains the most consistent source of revenue for every government adding that tax pact compliance is what citizens pay to ensure we have a good society.
He noted this while speaking at a civil society tax compliance advocacy workshop organised by Civil society Groups for Good Governance,CSGGG and Initiative for Leadership and Economic watch in Nigeria, with the theme 'Assessing the transparency measures emplaced by the Federal Inland revenue service for efficiency in tax collection, accounting and further promote tax compliance'.
Fowler who was represented by Mr Faramade Ogunsanya, Director Efficiency Unit added that tax compliance is equally essential to the achievement of the National budget.
According to him, tax money is used to develop the economy, keep the society safe and ensure that everyone is adequately catered for.
''Tax in every society is what is required to ensure that the society runs smoothly and to provide social amenities for its citizenry.
''Most of the developed countries of the world do not take their taxes with levity, in Canada they have a tax compliant of about 99.9% which means everybody pays their tax.
''In Nigeria we are trying to achieve that although we are aware that it is not going to be easy but we will get there with the support of groups like yours because tax money is used to provide infrastructure for the people, build schools and roads and to ensure that the level of living is improved for everybody'' he explained.
While lamenting on the non Tax compliance of many Nigerians Ogunsanya, stressed the need for widening tax payment to accommodate more people.
''The idea is to put our hands together to be our brothers' keeper, if you earn a bit more you put a little bit in the purse so that the people who earn less can have facilities available to them'' he said
 He however called for increased tax awareness among Nigerians.
''One of the most important things about taxes is been able to inform the public and the tax payers on the need to pay tax because Tax has been with us for a long time but some Nigerians do not see the reason why they should pay tax.
''We need advocacy from different groups to ensure that people are informed on the need for them to pay tax. It is a very good thing that the civil society has stood up to assist the FIRS and all tax administrators to ensure that people know about taxes, why they should pay tax and what tax is used for. As long as we all put hands together to ensure that this kind of information goes out there,  then more and more people will willingly pay their taxes.
Speaking earlier was the Co- convener, Comrade Ogakwu Dominic, President Civil Civil society Groups for Good Governance,CSGGG who noted that the workshop was initiated out of the dire need to instil and inculcate tax orientation and its value to nations development in the minds of citizens.
''As civil society and balancers of the society, we are aware of all the work going on behind the scene to ensure tax compliance, as a group we are determined to reposition the minds of Nigerians on the issue of tax payment by citizens to government which improves the general wellbeing of the society.
''The more tax is paid, the more monies the government gets to work with in other to meet up with the challenges in the country. The workshop is strategically positioned to drum awareness on the need for Nigerians to imbibe tax compliance culture, x-ray areas of challenges and pattern new ways of strengthening tax collection in Nigeria.
He also added that tax payment will discourage consumption of foreign goods and improve local production.