7-year-old hole-in-heart girl cries for help to save her life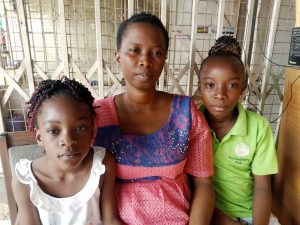 By Stephen Olufemi Oni, Ilorin
A seven-year-old girl of St. James Nursery and Primary School, Ilorin, the Kwara state capital, Olamide Emmanuel, is struggling to keep her life, having been diagnosed with a hole in the heart disease.
Unfortunately, Olamide was born with the ailment, neither by anybody's fault nor mistake by her parents.
The little girl said: "I am always feeling dizzy. I cannot play the kind of play that my friends play. It is pain almost every time. When I asked what the problem is, I was told I have hole in the heart, I don't know how it got there."
Mrs Joy Aboko, the 41-year-old mother of Olamide, who hails from Bassange in Kogi State said she never knew that her daughter has hole in the heart until after her 4th birthday. This situation has gulped the better part of my family's meagre income and the University of Ilorin Teaching Hospital where surgery is expected to be carried out on her gave us a bill of N3.5m (Three Million Five hundred thousand naira only). I was even there when the medical officer in charge one day called UCH Ibadan and OAUTH to confirm about the cost implication.
"Since then, I have been reaching out to several people, philanthropists and organisations seeking help, but till now, I am still looking up to God. My daughter has been on drugs to manage her condition. I am calling on well-meaning Nigerians to come to the aid of my daughter."
Mrs Aboko urged well-meaning Nigerians and corporate bodies to assist in saving the life of her daughter, adding that the Access Bank Plc with account number 0039172103 can be used to reach out for help. She added that she can also be contacted on 08162722344.
End