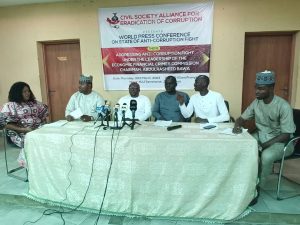 Coalition of civil society organisations have condemned the call for the sack of Abdulrasheed Bawa as the chairman of the Economic and Financial Crimes Commission (EFCC), saying it is self-serving.
The civil society organisations said the call is also ill-timed and would further reverse gains made in the fight against corruption under Bawa's watch in the commission.
Addressing a press conference in Abuja on Thursday on behalf of the groups, the co-convener African Leadership Strategy & Transparency Development Initiative, Nelson Ossaieze said at a time when several politically exposed persons are about losing their immunity on the account of expiration of their tenure of office, removing Bawa as EFCC chairman will make no sense of the efforts and resources invested in investigating such politicians.
The president, Muhammadu Buhari, his vice Yemi Osinbajo and several state governors as well as their deputies will lose immunity of office on May 29 when they are expected to bow out of office.
The groups say, this will be an opportunity to swoop on those who have illicitly used public funds to advance their personal interests.
"The call for sack and removal of Bawa at this transition period is a wrong idea that will further defeat the already established fight against some political office holders most of whom will no longer enjoy immunity and thus makes investigation easily done.
"Bawa should be allowed to complete the ongoing investigation of some of the political office holders, including that of the ruling party. We are sure these are part of those calling for his removal, which we stand against and urge President Muhammadu Buhari to ignore such calls as they are targeted at undermining his anti-corruption fight.
"The flimsy excuse under which they are calling for his removal, is selective disobedience to court rulings. We all know, the standard rule if such occurs, is for the complainant to approach court and charge Bawa for contempt not calling for outright removal", Ossaieze stated.
He said under Bawa, the commission has recorded 3,785 convictions and still counting, wondering why the EFCC is not celebrated for these milestones.
Ossaieze stressed that removal of Bawa will portray Nigeria as a country not taking anti-corruption crusade with the needed seriousness before the international community, calling for the support of all Nigerians to strengthen corruption fight.
"The war against corruption especially under President Buhari has its milestones, prospects and no doubt challenges hence the need to uphold and sustain what is being done by EFCC under Bawa and ensure those accused are called up to clear their names.
"This we must sustain, and in doing that we hereby pass a vote of confidence on Bawa and urge him to carry on with delivery of his mandate and further deepen the anti-graft agency", he stated