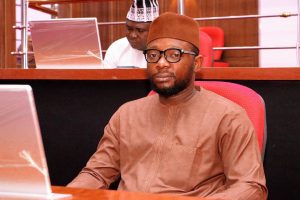 .
"… as he bow out of legislative institution after serving for four years…"
Report indicates that the Journalists from various media outfits within and outside Nasarawa State covering the State Assembly yesterday Wednesday celebrated a lawmaker Hon Abdulaziz SK Danladi member representing Keffi East over what they described as his steadfastness, competent and as the most journalists friendly legislator in the House.
The commendation by men of the pen profession was coming shortly after the Valedictory Session of the House to mark the end of the sixth assembly in Nasarawa State.
The members of the forth estate of the realm appreciated Hon SK Danladi for his concern for the journalists in the House and the State at large.
They said is one lawmaker in the Nasarawa State House of Assembly that always identified and acknowledged the efforts and pains of the journalists as they wished him well in his future endeavors.
The journalists who converged at the press gallery to celebrate the lawmaker also prayed God to open more doors of greater things for the lawmaker as he stepped out of the assembly after serving for four years.
Earlier during House proceedings, the lawmaker and chairman. Committee on Works and Transport, Hon. Abdulaziz SK Danladi has lauded journalists covering the activities of Nasarawa State House of Assembly for the promotion of the legislature and reshaping its direction in the last four years.
He gave the commendation while making his valedictory submission as part of the valedictory session of the House to mark the end of the Sixth Assembly in Lafia.
Danladi, who is the member representing Keffi East in the legislature, said their contribution to the House was invaluable and unquantifiable.
Danladi said 'there was no single day the Assembly press crew had not done their best to ensure the activities of the House and their personal assignments were properly covered and disseminated to the public"
He explained that without the media they would not have been able to achieve what they have done so far in the last four years of the 6th Assembly, urging them to continue to discharge their responsibilities diligently and professionally.
The State Lawmaker however noted that no reasonable government can succeed without the contributions of journalists, hence the need to be supportive and responsive to them by ensuring better welfare packages to motivate them to do more in advancing the cause of development of the State and the country in general.
"After the executive, legislative and judiciary, one to be mentioned and reckoned with is the media because of the role played by members of the profession to accord top priority to the service and well-being of the nation" He added.