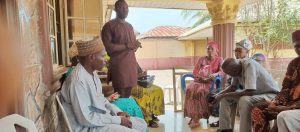 By Stephen Olufemi Oni, Ilorin
The Kwara State Council of Nigeria Union of Journalists (NUJ) has said that the late veteran broadcaster, Mrs Yemi Ademokoya-Agboola, led an exemplary life and bequeathed great legacy to the young professionals in the broadcasting industry.
The state Chairman of NUJ, Abdullateef 'Lanre Ahmed, stated this when the Chairman of the state chapter of National League of Veteran Journalists (NALVEJ), Alhaji Tunde Akanbi, led executive and members of the league on a condolence visit to the residence of late Mrs Ademokoya-Agboola in Ilorin.
Ahmed observed that the late veteran broadcaster, who retired from Kwara State Broadcasting Corporation (Radio Kwara) a few years ago, typified humility, generosity and kindheartedness throughout her lifetime.
The state NUJ Chairman recalled that despite her retirement from the state civil service, Ademokoya-Agboola continued to play active role in broadcasting industry with her series of Radio Programmes until she breathed her last.
Ahmed noted that the veteran broadcaster would be remembered for grooming, mentoring and building the capacity of young broadcasters, who are currently exhibiting professionalism in their various fields of endeavour.
The state NALVEJ Chairman, Alhaji Tunde Akanbi, who led the team on the condolence visit, described the exit of Mrs Ademokoya-Agboola as a rude shock because she was active and committed to the ideals of the league as its state Treasurer.
He noted that the deluge of condolences from across the world was a testimony that the late broadcaster was a woman of many parts that touched several lives positively.
Akanbi urged the bereaved family to be comforted that the veteran broadcaster did not die in vain but left behind a legacy that is outliving her even after death.
He disclosed that the state NALVEJ had opened a register at the NUJ Press Centre, Offa Road, GRA Ilorin for condolence messages and would be in place throughout the mourning period for the deceased.
A prominent businesswoman, Mrs Jumoke Harb, who is a younger sister to Mrs Yemi Ademokoya-Agboola, thanked the NUJ and NALVEJ contingent for identifying with the family in their trying time.
End