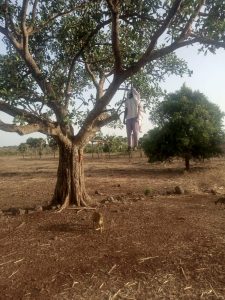 Man Hangs Self To Mourn His Late Grandma
A middle aged man, Ayuba Dauda on Friday hanged himself in Marama, Hawul Local Government Area of Borno state, as part of his own way to mourn his late grandmother.
Although he left no suicide note, he was quoted as having told people that he was making his last dance, as he hoped to go with his grandmother.
He was said to be a fan of his late grandmother, who had always defended him, whenever his parents punished him for his truant behaviours.
Ayuba was said to have danced all night during the Christian wake for his late grandmother, whose funeral service held the previous day, Thursday.
Described as an ex-convict who was only recently freed from prison the deceased was known to be a regular at brothels and drinking pubs, and always in trouble for petty thefts.
Findings reveal that, the late Ayuba had his left fingers burnt by his parents since he was very young over his
penchance for theft.
Our correspondent reports that, Marama community woke up to the shocking find by some women who had gone to get h water from a well near, where the man hanged himself.
Police from Hawul Division have since removed the corpse from the tree on which he hanged himself, with a promise to further investigate.
Meanwhile, Transition Committee Chairman for Hawul Inuwa Bwala, whose attention was called to the development, advised youths to abstain from engaging in acts that could lead to depression.
He said, the likely cause of such behaviours could be furastation, leading to depression and ultimately mental disorder.
He said it is more likely that Ayuba was haunted by his past, which led to depression and people might not have
noticed, much more than the death of his grandmother
.