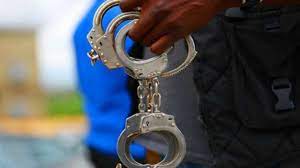 A 35-year-old man has been arrested for allegedly jumping into the Lagos premises of the News Agency of Nigeria (NAN) in Iganmu, with intent to steal valuables.
The suspect was accosted by NAN security men at 5p.m. on Tuesday.
Tuesday's incident followed several cases of theft on NAN Lagos Office in recent time, including the removal of the Agency's armoured cables worth millions of naira on Sept 26.
On interrogation, the suspect said he was a casual worker from the next compound and had jumped the back fence into NAN premises to pluck mangoes.
The suspect later said he misplaced his key in the process and was searching for it before he was apprehended.
He was then taken to the security post where he struggled to escape during which he injured a NAN security guard with deep cuts in the head but was later overpowered by other security agents.
The suspect was later handed over to the police at Iponri Division.
The security guard who was attacked by the suspect was taken to Randle General Hospital, Surulere for treatment.
The Iponri Divisional Police Officer, Mr E.O. Onah, told NAN that the suspect would be charged to court as soon as investigation was concluded.
The Police Public Relations Officer in Lagos, CSP Adekunle Ajisebutu, could not be reached as calls and text messages to his phone were not answered.