Voters apathy: We will change situation for future elections- Ogunleye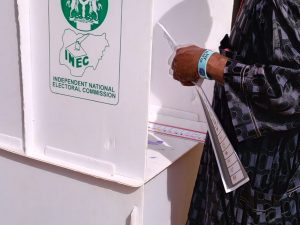 By Oluwafunke Ishola/Adepote Arowojobe
A former Deputy Governor of Lagos State, Prince Abiodun Ogunleye, says the All Progressive Congress (APC) will ensure Nigerians enjoy more dividend of democracy that will change the narrative for future elections.
Ogunleye, Chieftain of APC and member of the state Governors Advisory Committee, disclosed this in an interview with the News Agency of Nigeria (NAN) on Saturday in Lagos.
The APC chieftain said this after casting his vote during the Governorship and House of Assembly Election at PU 012, Solomade, Ikorodu.
Ogunleye, who said that though voters' turnout was low compared to the presidential election, noted that the electoral process was peaceful.
"The job we have to do now, not only in Lagos, is to make sure we energise and encourage voters to come out and vote.
"Things were different during the times of Chief Obafemi Awolowo and the early days of Mr Babatunde Fashola.
"I'm a party man and I know some reasons I can't be saying in the public.
"We have the blueprint, my colleagues and I will sit down and work with it to change the situation in future election," he said.
Ogunleye said that he believed in a free, fair and transparent electoral process, noting that the deployment of BVAS had reduced electoral malpractice.
He advised the citizens to vote for a competent leader who had the interest of the people in mind and could also drive development.
He also urged the youth to shun violence and inciting statements that could lead to chaos and disruption of electoral process.
According to him, when you have violence, you are enthroning mediocrity and those who aren't qualified to rule will be put in the position to lead.
He noted that even if a leader was a PhD holder but don't take care of people at the grassroots, citizens would suffer.
"I believe that development should start at the grassroots, and for this kind of country, Nigeria, we shouldn't be suffering.
"What has been missing is a leader that has strong-will, ready and courageous to take decisions.
"I know that the president-elect, Sen. Bola Tinubu, is a courageous person and have strong-will. We will continue to pray for him and for his success,"