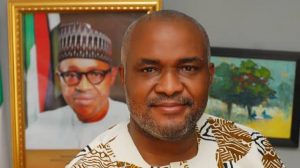 A civil society organisation, identified as Brown Table Democratic Group, has tagged HURIWA a virus over publication made by its leadership against the president elect, Alhaji Bola Ahmed Tinubu.
In a statement signed by the Executive Director, Maxi Sam Obiora and Com Kunle Alao
National Legal Adviser on Thursday, the group described HURIWA as an organization consistently known for exhibiting cloak and dagger approach to politics, along with some doses of blackmail, arrogance and selfish rigidity.
The statement read; "Our attention has been drawn to an ill-motivated and self-serving news item credited to a self-appointed civil society group and Non-governmental Individual ( NGI) entitled, "Medical Trip: Tinubu shows the tendency of becoming another Buhari, says HURIWA".
"Our initial reaction to this callous title was to ignore it, bearing in mind that the author of the said story was perhaps, a known political jobber and blackmailer seeking relevance and undue attention from the incoming administration. The same Onwubiko that accuses government officials in the day but glorifies and honours them in the night.
"We do find the statement credited to Onwubiko as despicable, mischievous, opportunistic, defamatory but also baseless, useless, wicked and evil inspired.
"We must remind Onwubiko and HURIWA conglomerate of anything goes, food is ready non- governmental individual, that the era of making spurious claims against Asiwaju Bola Tinubu and his supporters just to cause some embarrassment to them or achieve some political capital must come to an end. Nigerians will no longer accept HURIWA's existing culture of character assassination and blackmail of innocent citizens.
"In his characteristic fashion, Onwubiko, one of the men IPOB hold in high esteem within the civil society space for being self-appointed avid defender, has not made us uncomfortable with his latest ranting against the President Elect. We are always excited to read Onwubiko's IPOB inspired tales in the media space due to his level of lack of objectivity, apt reasoning, professionalism, and fairness. His audacity to always take side has enlisted rogue elements and separatist groups as his ardent supporters.
"Let us unambiguously state that HURIWA the same group acting out a script to blackmail the President Elect has kept mute when Obi traveled out of the country during the Easter period and was involved in high magnitude of controversy with the UK law enforcement agencies. It is the same Onwubiko that is yet to utter a word on the permanent residency of a first grade Nigerian politician in Dubai to the extent that his name is more associated with the Middle East country than his Nigerian home state.
"For an organization consistently known for exhibiting cloak and dagger approach to politics, along with some doses of blackmail, arrogance, selfish rigidity and the inclination to bring down any system that doesn't rub the back of Onwubiko, this is not a new low on their resume. In fact, it may be an act of wisdom for patriotic citizens to realize the need to distance themselves from a venomous rattle snake which HURIWA represents.
"Onwubiko accused the President Elect on traveling to European soil to either rest or seek for medical attention. The assertion is a clear case of being dishonest and abysmally mischievous. It is on record that even Onwubiko himself usually travels abroad to either rest on normal or medical vacation. A deliberate agenda of preaching what he doesn't practice! In fact, Tinubu or his handlers never told anyone that he traveled to Paris to seek medical care a few weeks ago.
"We are very much conscious of the subterranean stance against the President Elect by sore losers and their agents of stagnation and decline. We want to assure Nigerians generally that freely gave the mandate to Asiwaju on 25th February, 2023 that we will lawfully fight any further mischief being perpetrated by HURIWA against under any cheap canopy, including using the law courts for enforcement of our fundamental rights.
"Having followed Asiwaju's political antecedent which is rooted in tenacity, team playing attributes, consistency, hard work, discipline, political astuteness, strong will; qualities which are in short supply among some Nigerian politicians and having noted his politics of which dates back to late Gen. Shehu Yar' Adua, late Chief MKO Abiola and the era of June 12 struggle for the restoration of democracy in our country, we have seen in him an uncommon democrat whose brand of politics is graced with sincerity and Nigerianness par excellence.
"In view of the observed and act of wickedness exhibited by HURIWA and their sponsors, we shall come out with their atrocities and devious activities over the years to expose their real identity, lies surrounding the soul and spirit of the self centered outfit in order to straighten the records for the benefit of the reading public, who may be misled by the concocted falsehood contained in the publication.
"Henceforth, under no circumstances will any offensive publication against the Jagaban, President Elect go unchallenged. Enough is Enough!" It added.