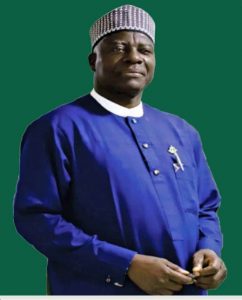 By Kenneth Atavti
While a section of Nigerians queried President Muhammadu Buhari's 437-or-so-man list of recipients for National Honours, almost no one muttered against the consideration of Alhaji Yusuf Magaji Bichi (CFR), the Director-General of Nigeria's Department of State Services (DSS).
With over 40 years experience in security and intelligence gathering matters up his sleeves, there was never any doubt that Bichi would deliver when he was drafted to replace Mathew Seiyefa in 2018.
His conferment with the award of Commander of the Federal Republic (CFR) was well-deserved.
"Today, 11th October, 2022, the Director General, Department of State Services, was conferred with the National Honour Award of COMMANDER OF THE FEDERAL REPUBLIC (CFR) by the President and Commander-in-Chief President Muhammadu Buhari, GCFR. The honour is in recognition of DGSS' sterling leadership qualities and particularly for his tremendous contributions to the national security management of the country.
"The Management and Staff of the DSS rejoice with the DG on this momentous occasion and wish him good health and greater heights.
"Congratulations, DG, Sir: Alhaji Yusuf Magaji Bichi CFR, fwc," Peter Afunanya, DSS Public Relations Officer wrote in hearty felicitation.
Because of the classified nature of their dealings, many of the DSS achievements, especially under the helms of Bichi, remain unsung. Except on very rare cases, their successes are not escalated across the media space. "My vision is to create a friendly work environment, enhance staff capacity through training and welfare, as well as ensure that the DSS remains a democratically-complaint intelligence agency in Nigeria". These were his watch words to which he has largely lived up to.
On October 11, 2022, when the man of valour was rewarded for his professional diligence, the Presidency noted that the honour was in recognition of his "sterling leadership qualities and particularly for his tremendous contributions to the national security management of the country".
*His Achievements*
His era birthed a new wave of professionalism and precision in Nigeria's elite secret police. His leadership has brought organisational change and development. His skill and capacity has been tested in the ways he has managed the existential threats confronting the country. From the EndSARS protests in 2020, to kidnapping, armed bandits, insurgency, economic crimes, etc. Bichi championed the synergy between other security agencies to take constructive actions that addressed threats that came before, during, and after the EndSARS protest.
So many high profile crimes have been busted with the aid of intelligence shared among sister security agencies under his leadership. Some of these include the case of pension thief, Abdulrasheed Maina who was nabbed and brought to his knees to answer for his crimes. Also, he has inspired successes in counter-terrorism and counter-insurgency operations across the North East and North West regions. His leadership has steadily provided intelligence for anti-corruption agencies as part of efforts in the fight against financial crimes.
DG Bichi's recognition and award confirms the postulation that the reward for a good work done, is more work. But of course his reward is a prestigious gold medal that he can wear with dignified pride. Under his watch, Nigeria's secret police is now getting commendation and positive feedbacks from fervent critics for their many successful operations and exploits that are all geared towards ensuring that Nigeria's internal security and indivisibility is guaranteed.
Security experts have posited that the DSS under Bichi's leadership, have become thecountry's five senses and the pillars upon which the security of the country is solidified. It would be recalled that after the 2019 presidential election, an election monitoring group- International Human Rights Commission in Geneva, Switzerland, honored Bichi, with an award. "The award was in recognition of the exemplary performance by the Service and its personnel during the just concluded 2019 general elections," the group said.
The DSS boss has continued to ensure the protection of democratic institutions in the country. This would in turn strengthen the country's democratic culture, provide policy support to all levels of government through timely dissemination of intelligence, providing timely security education for the public through effective information and communication management.
Truth be told, his many reforms has improved overall public confidence in the DSS and reversed previously held notions that it is unfriendly. There has been routine training and capacity building for staff, acquisition of new tools and technological capacity to meet contemporary challenges, partnership with strategic groups, strategic communication and robust fight against terrorism and insurgency.
Courtesy of Bichi, the Service now has improved documentation systems; Information Technology (IT) facilities for various administrative and operational purposes; massive conversion and upgrading of qualified staff; landscaping and beautification of the national headquarters; sponsorship of local and international training programmes for personnel to enhance their capacity to surmount emerging threats.
He has also overseen the formation of the Special Intervention Squad (SIS) and Tactical Teams to respond to emergencies; continuous expansion of health facility and purchase of modern medical equipment for enhanced staff welfare; sustained collaboration with sister agencies as well as effective collaboration with strategic stakeholders and partners; and attraction of projects from strategic stakeholders.
About Bichi
Born on February 23, 1956 in Hagagawa Qtrs of Bichi Local Government, Kano State, Bichi attended Kano State College of Advanced Studies between 1975–1977, and later Ahmadu Bello University, Zaria from 1977–1980 where he bagged a degree in Political Science.
He later attended strategic training at the National Defence College, Abuja, where he obtained a certificate with the authorization to use Fellow War College (FWC).
Prior to his appointment by President Buhari on September 14, 2018, Bichi was Director of Administration and Finance at the DSS Headquarters from 2015–2017.
He began his career in the Security Division of the Cabinet Office in Kano State from 1981 to 1984, and in 1984, he joined the defunct Nigerian Security Organization, the precursor of the present State Security Service, now renamed Department of State Services, where he rose to the rank of Director and served in several states, including Niger, Sokoto, Abia, Bauchi, Lagos and the FCT.
Atavti, is the Crime/ Judicial Editor of Nigerian pilot Newspaper in Abuja.