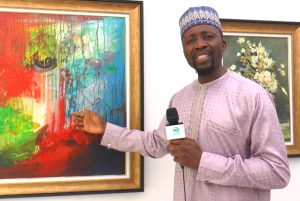 Muhammad Sulaiman, National President of the Society of Nigerian Artists and President China Alumni Association has recounted how the Chinese Embassy transformed his career by offering him scholarship to master his craft in China.
Mr Sulaiman, who is also the President of the Abuja International Open Art Expo and Head of Public Relations, FCTA Arts and Culture Social Development Secretariat disclosed this during an exclusive interview with newsmen on the sidelines of the 2nd International Arts Fair, held at the Cyprian Ekwensi Center for Arts and Culture in Abuja the nation's capital.
The calligraphy artist and painter who has exhibited his craft in many countries of the world stated that his breakthrough as an artist came after his training in the Chinese cities of Nanjing and Wuhan courtesy of a scholarship from the Republic of China.
When asked how his relationship with the Chinese embassy started, Mr Sulaiman, who received China's Award for Cultural Exchange in 2013 said, "It started with the understanding that there is a cultural section at the Chinese embassy. My presence at the China cultural units there attracted some kind of attention from the Chinese. They attended my exhibition which was the first exhibition I had in Abuja sponsored by Guinness Nigeria in the 90s. That was where the cultural chancellor saw my work and picked interest in it because I had some Chinese calligraphy displayed that I didn't know much about. Then the Chancellor was like why don't you think of studying in China and acquiring more knowledge. So that was when the study thing in China came up and the Chinese government decided to sponsor my program in China.
"I studied painting at the Academy of Painting and Calligraphy in Nanjing. At the Nanjing University of the Arts, I was taken to some outlets to understudy some professors. So basically, for me, it's been a thing of gratitude to the academy and my exhibitions are out there for all to see."
On China's contribution to human capital development in Nigeria, Mr Sulaiman who won the October 1 Award for Outstanding Nigerian Advocates of China-Nigeria Relations in 2019 opined, "Yes. Because China has trained hundreds of thousands of Nigerians on scholarships. Many Nigerians are studying in China right now courtesy of Chinese scholarships. These students are in the field of medicine, ICT, engineering, education and so on. What is expected is that these Nigerians will use what they have learnt in China to improve the Nigerian system. Some of us had some training in China and came back to form the China Alumni Association. What the alumni association is saying to Nigerians is that please, make sure you go back and give to society. We do workshops and masterclasses. We want to teach people how to be solidly productive. We just want to have our hands working. Because if you have that kind of working population, this country will grow so much bigger. So besides the construction companies and the rail revolution, the Chinese have built massive human capacity in Nigeria."
While noting that Nigeria and China have lots of cultural and historical similarities which have been nurtured through cultural exhibitions and exchanges, Sulaiman admonished Nigerians to emulate the Chinese by being productive and aiming for the top at all times.