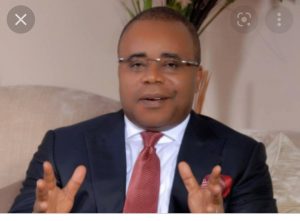 By Ere-ebi Agedah
The Contractors Association of Niger Delta Development Commission (NDDC) in collaboration with the Niger Delta Indigenous Contractors Association (INDICA) has congratulated Umana Umana on his appointment as Minister of Niger Delta Affairs.
In a statement issued by its President, Mr Sylvester Iyade Tonye, the contractors described his appointment as 'well-merited', adding that Umana has what it takes to pilot the affairs of the Niger Delta region to enviable heights, considering his wealth of experience and pedigree.
While appreciating President Muhammadu Buhari for the appointment of Umana, Mr Tonye urged the president to order an immediate release of funds to enable the Minister carry out his duties effectively.
Mr. Tonye also pleaded with the Niger Delta people to give peace a chance and allow the Minister to carry out his duties in a peaceful environmen.
Meanwhile the Ag National President of INDICA, Chied Dressman Darlington, Its Vice President Hon. Phillips Gilor has also commended Buhari for the appointment of Umana, saying he is a round peg in a round hole, adding that the region has waited so long for a true change.
"The Niger Delta Indigenous Contractors Association and the Niger Delta Development Commission Contractors Association pledged to support Umana Umana who doubles as the supervising Minister for NDDC".
Umana was appointed to head the Ministry in a major cabinet reshuffle to replace ministers who had quit office to pursue elective positions in the 2023 elections.
Sharon Ikeazor, a former Executive Secretary of the Pension Transitional Arrangement Directorate (PTAD), was appointed to assist Umana as Minister of State for Niger Delta Affairs.