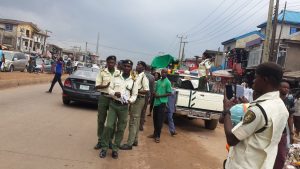 The Traffic Compliance and Enforcement Corps (TRACE), an international NGO, is to take its Ember months public enlightenment programme to transportation companies and religious houses.
Mr Babatunde Akinbiyi, TRACE spokesman, stated this in an interview with our correspondent in Abeokuta on Thursday.
Akinbiyi explained that it was important to train such drivers  of articulated vehicles conveying company products, more importantly in view of their recklessness and nonchalant attitude, which exposes other road users to danger.
He noted that the programme will begin soon, saying that other sensitisation programme had already begun in the media in the state.
"The public education awareness programme will also be taken to religious institutions such as Mosques, Churches and traditional worshippers through their leaderships.
"Safety on the road remains a collective responsibility. Human errors which includes  behaviour, non-challant attitude and habits  are responsible for 90 per cent  of  accidents on Ogun traffic corridor.
"The campaign will include messages against speeding, wrongful overtaking, drunk driving. among other traffic infractions known to be leading causes of crashes," he said.
He said that the NGO will also set up a task force made up of TRACE officials and members of  various transport unions  to check any erring member of the unions.
"The safety advocacy during the ember months is as a result of increase in human and vehicular movements, both intra and interstate, which further compounds traffic and expose other road users to risk and danger," he said.