The UK Dion Group of Companies was founded in 2017 by Mr. Micheal Diongoli, an entrepreneur, investor and philanthropist who is passionate about Africa's economic development.
One of the leading financial experts in Africa, championing entrepreneurship development across the continent.
The group's long-term investment in empowering African entrepreneurs is characterised by Micheal Diongoli's philosophy of African entrepreneurship, which brings Africa's private sector to the fore and projects entrepreneurship as the catalyst for the much needed social and economic development of the continent.
In 2021, the UK Dion Group under the audacious leadership of Micheal Diongoli consolidated its various subsidiaries and initiatives and made investing in Africa's next generation of entrepreneurs and business leaders a top priority. This is considered by many as a laudable decision and has endeared the UK Dion group to the hearts of most aspiring and emerging business leaders in Africa.
The group further provides a structured, robust, and multifaceted support to entrepreneurs around Africa through various Entrepreneurship Programmes.
They continue to nurture the growing numbers of business leaders, whose success stories serve as inspiration and encouragement to other upcoming entrepreneurs.
Mr. Diongoli demonstrate the effectiveness of his views and strategy in using enterprise development as a tool for sustainable development in Nigeria and across the African continent; as he continues to expand his reach in shaping tomorrow's business leaders and building an impactful pan-African entrepreneurial ecosystem.
His vision is to be west Africa's leading most distinctive servicing and solutions hub that adds value to all stakeholders.
To this end, his mission is to build trust and ensure value addition and wealth creation for his clients.
The admirable GMD Micheal U. Diongoli' is customer centric and focuses on ensuring the stability and growth of all stake holders.
He is one of the pioneers of creating an integrated entrepreneurial ecosystem that promotes African entrepreneurship.
The main philosophy behind the UK-Dion Group consolidation is based on the founder Mr. Micheal Ukiye Diongoli's desire to empower a generation of successful 'for-profit' entrepreneurs who would drive the African economic and social transformation.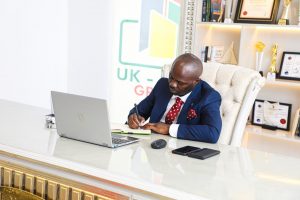 His guiding principles are derived from an inclusive economic philosophy of African capitalism, which suggests that long-term, dynamic African-led private sector investments in key sectors of the economy will drive economic and social development.
He believes that encouraging and building viable businesses from young Africans is the key to economic stability.
Mr. Diongoli has a large heart and is committed to mentoring a next generation of African bootstrappers.