IWD: Women ambassadors call for 40% women inclusion in incoming govt.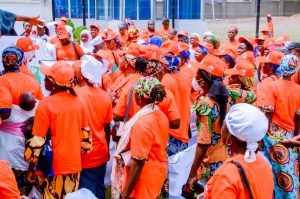 By Lizzy Okoji
The Federal Government of Nigeria Women Ambassadors Network (FWAN-NET) has urged the incoming administration to beat the 35 per cent affirmative action of women representation to 40 per cent women inclusion in its cabinet.
Dr Eniola Ajayi, the Chairperson, FWASN-NE and Nigeria's Ambassador to the Netherlands made the call on Wednesday in Abuja during an event organised by the network to mark the 2023 International Women's Day (IWD).
The News Agency of Nigeria (NAN) reports that the women ambassadors celebrated the event in line with the global theme of the 2023 IWD "Digital Innovation and technology for Gender Equality".
Speaking to journalist at the event, Ajayi said that the Nigerian women were the bedrock and major contributors to Nigeria's economy, hence the reason they must be fully involved in all sectors of governance.
"The Nigerian woman has a lot to be happy about not because of any affirmation but because we are the bedrock of the society.
"When you look at Nigeria and the kind of economy that we have, the reason our economy keeps bouncing out of recession is because of the strength of our informal sector, which is largely dominated by women.
"The Nigerian women are very resilience, very powerful, very resourceful, very successful so there is a lot to celebrate about.
"Affirmative action is like 33, 35 per cent. The Nigerian government that is going to take over should be looking at 40 per cent of women in governance.
"Because the women are very empathic people, we reach out in leadership through team work, we do not have ego issues, we collaborate, we represent and we produce.
"That is the kind of women that we have in Nigeria and there is a lot of them all over this country who can make a huge difference in governance.
"So, I am looking forward not to 35 per cent but 40 per cent of women representation in the next government of the Federal Republic of Nigeria," Ajayi said.
Ajayi said that the Nigerian women ambassadors had stood out among their male counterparts "and that is why the network is driving the message of encouraging younger girls, especially in the digital and technology sectors."
"That is why some of us who have found ourselves in this position thought it fit to do this because the motto of our association is "For Advancement in Leadership and Diplomacy".
"We want Nigerian women to feel empowered and supported, to take their place among the committee of nations.
"And I am glad that our male colleagues, knowing the kind of women we are, they came to support us at this event," Ajayi added.
Minister of State for Foreign Affairs, Zubairu Dada lauded the women ambassadors on their initiative, noting that the theme for this event "is apt, especially as the world keeps becoming more complex and competitive."
Dada said that digital economy had become an integral part of daily lives, as it also served as a powerful tool to advancing gender equality.
Dada said that he was optimistic that the FGN Women Ambassadors Network would offer the necessary support and opportunities for young females to enable them accomplish their potential as diplomats.
"With digital technology, women how have access to resources that were hitherto inaccessible or too costly.
"Digital economy has enabled women to bring down barriers and access education, and opportunities to start businesses and participate in the global economy.
"It has also given them a platform to share their stories and experiences and make their voices heard in matters of policies and advocacies.
"Leading to their visibility and recognition in their respective fields, as well as allowing access to financial independence," Dada said
British High Commissioner to Nigeria, Catriona Liang said that the Women Ambassadors Network initiative "is a sure way to achieving 50/50 women representation in governance."
"To my Nigerian colleague who set up your own female ambassadors network, it is a great initiative and one that will really help you to achieve your objective to get to 50/50.
"I want to share a couple of lessons from the UK and what we have managed to achieve. We have achieved more that 50/50 for our top ambassadors.
"We now have female ambassadors to the U.S., the United Nations, to France, to German, Moscow, Beijing, to Brasilia, and Abuja.
"Our foreign secretary one thing he did, he designated ambassadors, high commissioners roles that have not yet been filled by women.
"And it was to encourage young women to look at the mirror and see themselves in these roles. Very inspiring." Laing said.