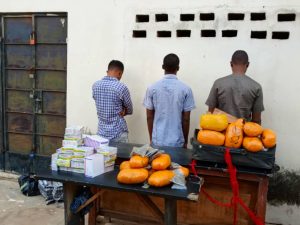 Stephen Olufemi Oni, Ilorin
Kwara state Command of the National Drug Law Enforcement Agency (NDLEA) has arrested three persons alleged to be notorious suppliers of illicit drug substances in different locations of the state.
Speaking with journalists in Ilorin on Tuesday on efforts aimed at reducing supply of hard drugs, the state Commander of the NDLEA, Mohammed Bashir Ibrahim, said the arrest was made within one week.
The NDLEA boss, who said one of the suspected drug traffickers, Nwankwo Chidiebere Innocent, is a major supplier of psychotropic substances in the state capital, added that two other suspects; Solomon Sonowo and Abubakar Tijani, were arrested with drug related offences.
"In the past one week, the Command intercepted 4kg of cannabis sativa which is Indian hemp, meth and methavitamin from one Solomon Sonowo aged 24 at Bode Saadu, in the Moro local government area of the state.
"Abubakar Tijani, aged 33, was also arrested at Bode Saadu with 14 kg of cannabis sativa.
"And there was arrest of one of the major distributors of psychotropic drugs in Kwara state, who gave his name as Chidi Godwin. He was arrested last year with a name given as Chidi Jonathan. The development aroused our interest to dig further with a visit to his house and found out that his real name is Nwankwo Chidiebere Innocent. He's a notorious supplier of psychotropic substances in the state. He has no shop, meaning that he's not a registered patent medicine seller.
"He sends his consignment from Lagos state and the good was intercepted on August 12. He was called to come and collect his consignment. He was arrested there after. Exhibit include tramadol weighing 1.950 kilogramms, Diazapham of 2.950 kilogramms and 179 grammes of Pentazocine."
The NDLEA Commander said t the suspect had been in the business for several years, "for him to have been arrested last year and this year again. His arrest will cut the supply and availability of psychotropic substances within the state".
He said the three suspects would be charged to the federal High Court after conclusion of investigations on the three of them.
End