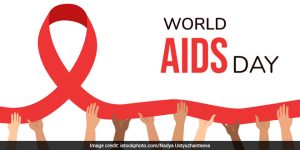 By Our correspondent
Every 1st of December is set aside to mark the World AIDS Day. It is a day to remember those who died from AIDS related illnesses and to offer support to those living with HIV.
Here in Bayelsa state, several activities were put together by the Bayelsa State Agency for the Control of AIDS, BYSACA to celebrate the event and create more awareness.
Speaking during the event, Special Adviser to the Governor, Hon Ayakeme Tonkiri urged all Bayelsans to know their status adding that HIV is not a death sentence.
Hon Ayakeme emphasized that the government would continue to support the agency to achieve its mission of reducing HIV in the state.
Also speaking, Technical Adviser to the Governor on Public Health, Bishop Dotimi Egbegi noted that the prosperity administration believes in the health of the people hence would ensure that issues of HIV are given adequate attention.
Bishop Egbegi called on all stakeholders to work together to attain the reality of ending AIDS in 2030.
While speaking on the role of the church, the clergyman called on pastors and other church leaders to add their voices in creating more awareness of HIV/AIDS in their churches.
In her speech, Permanent Secretary, BYSACA, Dr Oluwatoyin Azebi said proactive steps such as integrating HIV treatment into the health insurance scheme both at the national and state levels, involving donors should be taken to build a robust health system.
Dr Azebi called on the government to take ownership of HIV response through the implementation of a sustainable plan.
On his part, Vice President, World Assembly of Youth, Comrade Preye Ketebu-Brown urged the state government to set up the BYSACA board in order to mobilize funds for sustainable financing of HIV.
In a goodwill message, Civil Society for HIV/AIDS, CISHAN State Secretary, Mr Maxwell Ati called on the government to ensure prompt release of funds after approval for HIV services.
He equally called on all Community based organizations, Civil Society groups as well as the media to continue to sensitize the general public on HIV and encourage people to go for HIV testing and counseling.
The Network of Persons living with HIV, NEPHWAN emphasized the need for the government to re-strategize to address HIV/AIDS by providing the needed funding for providing HIV services as well as to end stigmatization and discrimination of people living with HIV, PLHIV.
Various goodwill messages by representatives of implementing partners such as FHI360, EPIC, and others emphasized the need for collaborative efforts in the fight against HIV.
The national theme for 2021 World AIDS Day" End Inequalities, End AIDS through sustainable financing serves as a call on all to continue to work to achieve an end to AIDS.