Fresh Attacks On Benue Communities By Herdsmen Has Placed State On Serious Financial Burden- BSEMA Boss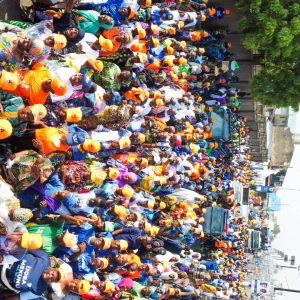 By Lateef Taiwo
Benue State Government has lamented that renewed hostilities on communities of Otukpo, APa and Guma Local Government Areas, which over 18,000 persons have recently ran to different IDP camps have placed the state on a more serious financial burden and called on the federal government and international community as well as other spirited individuals to come to the aid of the state to ensure that the killings are permanently brought to an end.
Making the position of government public while addressing journalists yesterday, in Makurdi, during the monthly distribution of food and non food items at a ceremony held at BSEMA headquarters, executive secretary Benue State Emergency Management Agency, BSEMA, Dr Emmanuel Shior revealed that in less than a week over 100 innocent farmers were reportedly killed with 60 deaths recorded in Otukpo and Apa LGAs, while in Guma about 40 person's lost their lives, explaining that with the fresh attacks many people have ran to IDPs camp and that has increased the financial burden of the state in taking care of the Internally Displaced Person's, IDPs.
The BSEMA Boss who listed this month items for distribution to include 3500 bags of rice, 800 bags of beans, 10,000 cartons of indomie 1,800 bags of gari, 600 bags of salt, 600 cartons of magi and 10,000 tubers of yams said government has made it a monthly routine despite paucity of funds to cushion the hardship of IDps.
He recalled with displeasure that for over five years people of the state has been under siege with the administration of governor Samuel Ortom, not having it easy in terms of mobilizing resources to carter for over two million IDPs on a monthly basis through supply of relief materials, expressing optimism that communities freshly affected by the crisis would also benefit from the current distribution.
Dr Shior appealed to the federal government through NEMA, National Commission for Refugees, Migrants and Internally Displaced Person's as well as other partners both within and outside the country already assisting the humanitarian crisis not be tired, appealing that they should rather increase the support.
The executive secretary BSEMA equally appealed to the federal government to ensure an end to the Benue killings as well support the incoming administration which is an APC government by putting in place plans to return the IDPs who are willing to return to their homes, adding that the IDPs themselves are tired of staying in camps for over five years.
Dr Shior who said Government is worried over how IDPs could be counted during the census in camps when every Nigerian is expected to be counted as families and in their homes, argued that counting IDPs outside their communities and homes will create a big credibility problem.
To avoid suspicion, the BSEMA boss called on the federal government to suspend the census exercise and rather fashion out a programme to return the IDPs who are also Nigerians to their homes for them to be equally counted to make the exercise more credible.