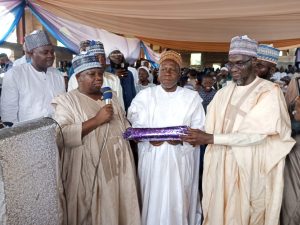 By Stephen Olufemi Oni, Ilorin
Kwara State Governor AbdulRahaman AbdulRazaq has disclosed plan to inaugurate a hall of fame to appreciate Kwarans who have distinguished themselves in their various areas of endeavours.
The Governor made this known in Ilorin, the state capital, on Sunday while speaking at a programme organised by the Alumni of the Kingdom of Saudi Arabia Universities, Kwara State branch in honour of Prof AbdulRazaq Alaro.
The Islamic University, Madina, Saudi Arabia recently conferred an Award of Excellence on Prof AbdulRazaq Alaro, a native of Ilorin.
Speaking at the event held in the hall of the Islamic Missionary Association of Nigeria (IMAN) Centre, Ilorin, AbdulRazaq said: "To appreciate and secure their place in history ,distinguished patriots like Professor AbdulRasaq Alaro who have made Kwara State proud nationally and globally, I shall inaugurate a hall of fame to be an integral part of the new Centre for Arts and Culture .
"This will further enhance and portray the achievements of such distinguished Kwarans and to serve as role models to the younger generation," said the governor who was represented by his special adviser on Strategy, Alh Saadu Salahu.
Expressing delight over the honour done Prof Alaro by his alma mater, the governor noted that: "Ilorin Emirate is a famous global centre of excellence in education , particularly Arabic education ,propagation of Islam and role model to other parts of the country in the sustenance of Islamic culture as a complete way of life."
He recalled the important role that Sheikh Alimi, Sheik Tajul Adab, Sheikh Kamaldeen Al- Adabbiy, Sheik Adamu Abdullahi Al- Ilory and Sheikh Imam Abdullahi Jibril Shabbat, among other Ilorin eminent Islamic scholars, played in the propagation and promotion of Islam in Nigeria.
He said the aforementioned scholars' footprints in the teaching of Arabic and propagation of Islam to various parts of the country and West Africa have made Ilorin proud.
He congratulated Alaro, describing him as "our proud scholar of excellence and celebrant for today who had made Africa, Nigeria , Kwara State and Ilorin in particular proud as a recognised scholar of global excellence .
He added: "Professor Alaro's excellence being celebrated today vindicates our administration's unprecedented investment , political commitment and priority to education in order to sustain the global reputation of Ilorin as a city of execellence in education , sustain the dream of the founding fathers of the state as one of the best in the country and above all to guarantee the brightest future for our children and grand children .
"I wish to congratulate all members of the Saudi Alumni Association in Nigeria and Kwara State in particular for making Nigeria proud by their stellar academic and professional achievements. They inspire more of our youths to towing principled paths to prosperity and discourage those few ones engaged in unlawful acts which portray Nigerians negatively to the outside World .
Also speaking, the representative of the Saudi Royal Ambassador, Prof Ibrahim Otuyo of AlHikma University, Ilorin, expressed delight about the long existing cordial bilateral relationship between Nigeria and the Kingdom of Saudi Arabia.
He said the Saudi Arabia government is proud of the exploits of Prof Alaro who was selected for the Islamic University of Madina's award for only 10 of its alumni globally.
The chairman of the occasion, Prof Akorede Agbarigidoma thanked the state government for its support which he noted contributed greatly to the success of the event.
Ends