Woman, 32, in NSCDC net for stealing tomatoes in Kwara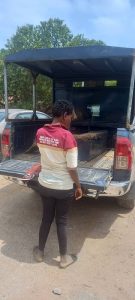 By Stephen Olufemi Oni, Ilorin
A 32-year-old woman, Mariam Yusuf, has been arrested by the Kwara state Command of the Nigerian Security and Civil Defence Corps (NSDCD) for stealing some baskets of tomatoes and pepper at the Kulende market, Ilorin, the state capital.
The suspect, according to the spokesman of the NSCDC Command, DSC Ayeni Olasunkanmi, was arrested on the 5th of April following a report by the traders in the market.
"Issues of stealing within Kulende market has become a serious issue among the traders, such that, they've been suspecting one another of stealing. The matter has generated a lot of infighting among them.
"However, luck ran out of Mariam Yusuf on Wednesday 5th of April when our personnel at Kulende outpost under Tanke Division apprehended her for stealing tomatoes and other ingredients.
"Mariam has confessed to the crime and necessary legal action will be taken soon."
End