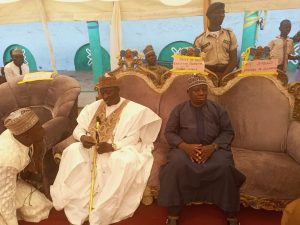 By Stephen Olufemi Oni, Ilorin
The need for the three tiers of government in Nigeria to as a matter of urgency strengthen and support traditional institutions, especially at this critical time of heightened insecurity and economic hardship, has again been stressed.
This is in tandem with the recent call by the Senate on the federal government that has been miffed by the seemingly intractable insecurity in the country.
A governorship aspirant in Kwara state and a philanthropist, Mallam Yakub Olayiwola Gobir, who made the call while presenting a new space bus of Hunda brand to the Chief Imam of Gambari, Sheikh AbdulAzeez Suleiman, opined that the traditional rulers are the closest to the grassroots and are in the best position to assist government in tackling the menacing insecurity across the country.
He said: "The institution is the closest to the people and in these days of insecurity, poverty and so on, it is important to carry the traditional institution along as they will be of tremendous assistance to government in arresting the seemingly intractable insecurity in the country," adding that
the role of traditional rulers is critical to the survival of the country, particularly at this material time.
The Chief Imam is the paramount cleric in Gambari, a major ward that makes up the Ilorin Emirate.
He said: "The traditional institution predates the country called Nigeria.
"If you know the history of Ilorin very well, you will know the significance of this very location in our history.
"For those who do not know, this very location and this community is where we welcomed the Fulani into Ilorin.
"Of course we met other tribes here. But of course, Ilorin is a melting pot of all traditions and we happen to be part of that melting pot and the traditional institution has been there from the very beginning.
"The traditional institution has always been the closest to the community."
Asked if he would like to see a tinkering with the laws to allow for more statutory support for the traditional institutions in the country, Gobir said that the structure already exists but that paucity of funds is affecting its administration.
Meanwhile, Sheik Abdulaziz, beneficiary of the car gift, has lauded the gesture from Gobir.
"I am very happy and full of joy for the kind gesture of giving me a vehicle. The car comes at the time I need it most.
"May Almighty Allah provide him with his hearts desire," the cleric said.
End