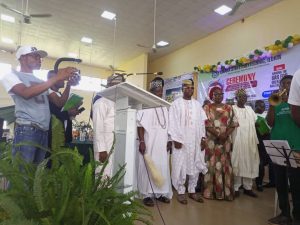 By Stephen Olufemi Oni, Ilorin
The Management of the Kwara State Polytechnic (Kwarapoly), Ilorin, has appealed to the alumni of the institution to facilitate the approval of the licence for the Kwarapoly Microfinance Bank through their various connections
in the Central Bank of Nigeria (CBN).
Speaking during activities marking 50 years of establishing the institution in Ilorin on Thursday, organised by the alumni association of the polytechnic, the Rector, Engineer Abdul Muhammed, said that delay in getting the licence approved had held down appointment of staff for the bank and revenue generation for the institution.
Engineer Muhammed, who said that all necessary steps had been taken towards the take off of the project, added that the project was only awaiting CBN approval.
"In realisation of its enormous benefits to staff and the polytechnic community, the management established the Kwarapoly Microfinance Bank. We have opened an account at Keystone (the parent bank for the MFB) and at present, our application for operating license awaits Central Bank of Nigeria (CBN) approval. So, we call on our alumni to help use their influence, contacts and internal connections to get the approved licence for the microfinance bank for further development of our institution", he said.
The Rector, who said that the polytechnic had grown in size and status over the years, added that it had produced thousands of people for the growth of the nation's economy, annually.
Also speaking, the President of the Kwarapoly alumni association, Engineer Abu Salami, emphasised the role of the polytechnic in promoting technical education and creating skilled workforce, which he said had contributed to growth and development of the country.
"The institution has continuously
evolved over the years, keeping pace with the changing times and needs of society and providing opportunities for students to excel in various fields of study.
"As we reflect on the past 50 years of the Kwara State Polytechnic, we must recognize the importance of nurturing the next generation of leaders and innovators. The Alumni association has an important role to play in this regard and we are committed to supporting the Polytechnic in its efforts to provide quality education and training to students", he said.
Engineer Salami also disclosed that the alumni association would lay foundation of N150million Alumni Village inside the polytechnic campus during the celebration; housing guest house, conference hall, worship centres, office complex, recreational areas, among others.
He said the project would help generate funds for the association and bring members together.
End.